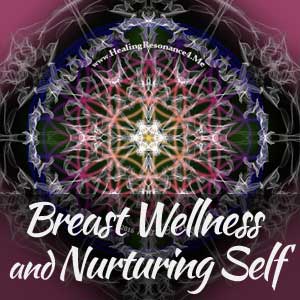 Focused Group Distance Kore HealingSM with Kristi ~ "Breast Wellness and Nurturing Self "

This Kore HealingSM session will offer focused healing on the quantum level (mind-body-spirit) for women who have physical concerns with their breasts, whether that is manifesting as cysts, lesions, lumps or even breast cancer. When we have surgery, we are not necessarily addressing the underlying root of the dis-ease.

I have worked successfully with a number of women with breast cancer, reducing their treatment period. I have wanted to offer this group for a while. The message has come through strongly that this is the right time to offer this powerful healing.

Although others will be on this call, will have anonymity (except to me). I will also include those individuals who have either purchased the delayed listen or will be purchasing this from my Kore HealingSM catalog. I will connect into your energy and with your Higher Self to (1) identify possible root beliefs manifesting as breast problems, (2) release denser energies, emotions, or blocks from this area and the heart chakra and (3) work on releasing any patterns of neglecting self or consistently putting others before oneself.

I am guided by my "knowing", messages from Higher Realms and clients' Higher Selves. This is love-filled intuitive energy healing to release the underlying roots (if any) of the physical symptoms. We will also be reprogramming beliefs and releasing denser energies which may be preventing you from loving, honoring and nurturing yourself.

The call will be recorded, so if you are not able to participate in "real time" you can elect to add-on a "listen later" option (not a 2nd listen). My healing gifts transcend both time and space ... distance healing works and my audios are effective if you engage with me as if we are live on a call. About a week after this call, the audio will be added to my Kore HealingSM catalog with an option for unlimited interactions with this healing session.

I will schedule this when I have three or more people, so please contact me VIA EMAIL HERE or use my Contact page form.

~ ~ ~ ~ ~

Testimonials and add'l information may be read in Kore HealingSM with Kristi landing and individual Group Distance session pages for root, sacral, solar plexus, heart, throat chakras and other targeted heaings.
Several Group Healing Opportunities with specific, targeted focuses are available in the Kore Healingsm with Kristi section of my site.
Crown Chakra ~ Divine Alchemy & Bliss

Third Eye Chakra ~ Inner Vision (Clarity, Guidance)

Throat Chakra ~ Words of Truth Spoken w Love

Heart Chakra ~ Healing Your Heart (Lungs, Chest, Releasing Mistakes, Self Love)

Solar Plexus Chakra ~ Self Care & Personal Power (Stomach, Digestion, Self Sabotag)

Sacral Chakra ~ Creative & Sensual Expression (Reproduction, Sensuality, Creativity)

Root Chakra ~ Foundation of Love (Hips, Security, Self Value, Root Chakra)

Shouldering Responsibilities with Ease & Grace ~ (Special Mini Session ~ Releasing Shoulder & Jaw Tension)
Disclaimer: Healing Resonance llc with Kristi Borst should never be used to solely diagnose, treat, cure or prevent any disease or psychological disorder and is not a substitute for licensed medical or psychological treatment. Kristi is not a doctor, therapist, or chiropractor. Kristi is a legally ordained Minister & Reiki Master, certified in physio/spiritual massage and with the ability to metaphysically help mind/body/spirit regain center and balance. The "healing resonance" and "energy work" she offers assists your body's Divine Healing Intelligence. Client testimonials conveyed verbally or on the web site do not constitute a warranty, guarantee or prediction of the outcome of an individual using Healing Resonance llc with Kristi Borst. "It is likely that in your session, things blocking natural healing and/or well being will rise to the surface for us to address together. This is a team effort and YOU are a key player!" Rev Kristi Borst, RM
Group work is offered for a powerful, yet more affordable way to move forward with your healing. You may find that this type of session clears some items and brings others to your consciousness so you can more effectively release them.

*Due to the nature of the work that I do and the way the energetic connection is made, I will refund your reservation for a group healing event within 24 hours of your booking UNLESS you are booking within 24 hours of the actual call. Many times, even by signing up, you will start to receive my healing energy; therefore, I've been moved to post this policy. If you have regret of your sign-up within 24 hours after booking, please leave a voice message and I will process the refunds. No refunds for cancellation received after that period. If you are unable to be on the call but are registered, you will still be included in the circle and will receive the energy healing.